Modern Dining Chairs for Restaurants in 2018
At the end of 2017, we discussed the emerging modern furniture and design trends for 2018. Whether for your home or business, these are some trends that will become more and more prevalent as the year goes on.
At sohoConcept, we love working with restaurateurs and managers to decorate restaurant spaces. With 2018, we're seeing some amazing new design trends for restaurants take hold. Modern dining chairs are the stars of the show in restaurants in 2018 with a variety of new modern furniture trends. With sohoConcept's modern dining chairs, you can make your restaurant visitors comfortable and also catch their eye as a trendy, modern restaurant.
Modern Dining Chair Trends for Restaurants
Colours & Shades
In terms of colours for dining chairs in restaurants, as long as they complement the rest of the decor, you're free to choose what you like! Wooden tones with grey and black materials is trendy for neutral chairs. The Uni-ka 599 dining chair at 4d Gelato West Palm Beach is a perfect example of this trend with its wood base and black, curved seat.
However, if you're looking for a pop of colour, bright blue, green, red, and neon colours as accents can work wonderfully. Having a neutral restaurant with bright, modern chairs will make your restaurant memorable and unique.
Minimalist
Thin chair legs, thin tables, thin seats – minimalist furniture in restaurants is a design trend that many managers and owners are taking advantage of. Bulky furniture is often an issue in restaurants, as servers, chefs, and customers need to be able to easily meander through the restaurant. The trend of minimalist dining chairs in restaurants is great for saving space and maintaining modernity.
Stools
If your restaurant doesn't have bar stools yet, it's time to catch up. Whether in a lounge area, at the bar, or in the dining room itself, bar stools are a necessary staple of modern restaurant design. Keeping with the minimalist and colour trends, bar stools add more depth to your restaurant and provide different options for diners.
SohoConcept's Tiffany Stools in Square One, Mississauga, Canada are a great example of adding bar stools to create depth, while their slim design makes them easy to move and tuck away.
Chrome
Chrome is back as a prominent metal for restaurants in 2018. Chrome backing and chrome legs on modern dining chairs is absolutely on trend for restaurants this year. While sometimes difficult to keep clean and keep looking new, the effect of a restaurant full of chrome dining chairs and tables is hard to forget!
Square
In trying to stay modern, many restaurants tend to naturally avoid more traditional aesthetics. Traditional-style dining chairs, such as those with square backs, are making a more modern comeback for restaurants in 2018. With other design trends for dining chairs, such as chrome bases or bright colours, chairs with square backings and more angular styles make great additions to restaurants looking for modern trends this year.
A great example of this is the Patara Chair used in Le Meridien Charlotte, North Carolina. The square backing with the round seat makes for a traditional look, while a range of unique colour and pattern choices keep the restaurant modern.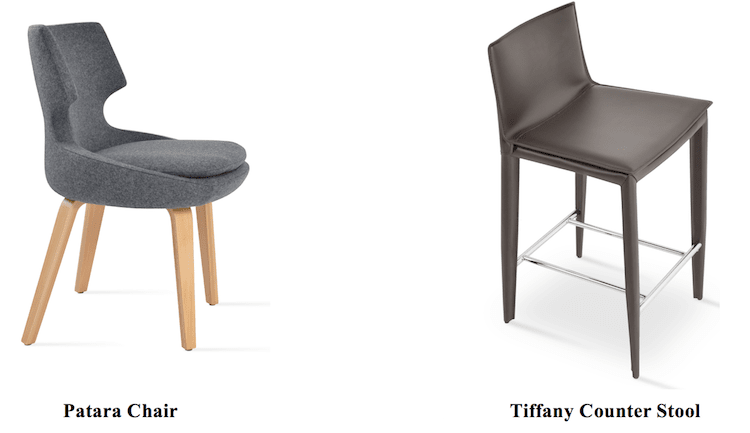 Instagram
Whatever design trends you choose for your dining chairs for your restaurant, make sure they're comfortable and visually appealing. Instagram-bait is a key factor for decor in any business nowadays. Your decor has to be original, modern, and unique to get posts about it on social media. By choosing modern dining chairs that fit into modern design trends, you can get some free social media promotions from your impressed clients!
Modern Restaurant Chairs by sohoConcept
For modern dining chairs for restaurants, look no further than sohoConcept. Our wide range of dining chairs are perfect for modern design trends in restaurants no matter your decor or theme.
For more information about our modern dining chairs for restaurants, view our catalogue and references or contact us today!