Following the Design and Color Trends at IDS Toronto 2017*
The Interior Design Show 2017 (IDS) was definitely a great way to kick-off the new year with so many unique booths, showcasing their latest and greatest products! IDS took place in Toronto, ON Canada between January 19-22 at the Metro Convention Centre. Although we were not an exhibitor this year, we still had a blast walking the show and interacting with multiple designers and suppliers. Take a look at some of the color and design trends at IDS this year!
This year's show featured guest speakers: Lynda Reeves, founder of House & Home magazine, interior designer and HGTV host Tommy Smythe, and architect/designer Darcie Watson. They discussed The Hot List, their signature styles, as well as key design moves we can all learn.
Beth Hitchcock, Editor-in-Chief and interior designer, Joel Bray from House & Home magazine, and Scott McGillivray – Real Estate Investor, skilled contractor and businessman on HGTV, gave insight on Top Design Tips & Tricks on how to get today's best looks!
Fortunately for us, we had the opportunity to listen to some inspiring ideas, and had the pleasure of personally meeting Tommy Smythe and Scott McGillivray!
What's trending? Top color trends at IDS17
Here are some of our favorite booths and colors from the Interior Design Show 2017!
Our first stop: Camilla House! Their booth displayed a beautiful green hedge with wooden, rustic tables and elements, as well as natural wood cheese boards in different sizes. Even with the harsh lighting of the convention space, the Nix Pro was able to grab an accurate scan.
Peter Glassford is a company that creates beautiful wooden collage tiles, murals and even collage furniture in different colors, and designs. This colorful wall was definitely an eye-catcher; we just had to stop and stare… And scan a few colors from it of course!
These modern and soft fabric chairs from Soho Concept are made with Camira Wool and are available in a wide variety of colors like Pistachio and Turquoise.
Gold and white is definitely a popular color combination executed by NettHaus' booth this year! A mixture of modern, traditional and wooden elements created a unique look for the gold light fixture, couch, chairs and book shelf to stand out!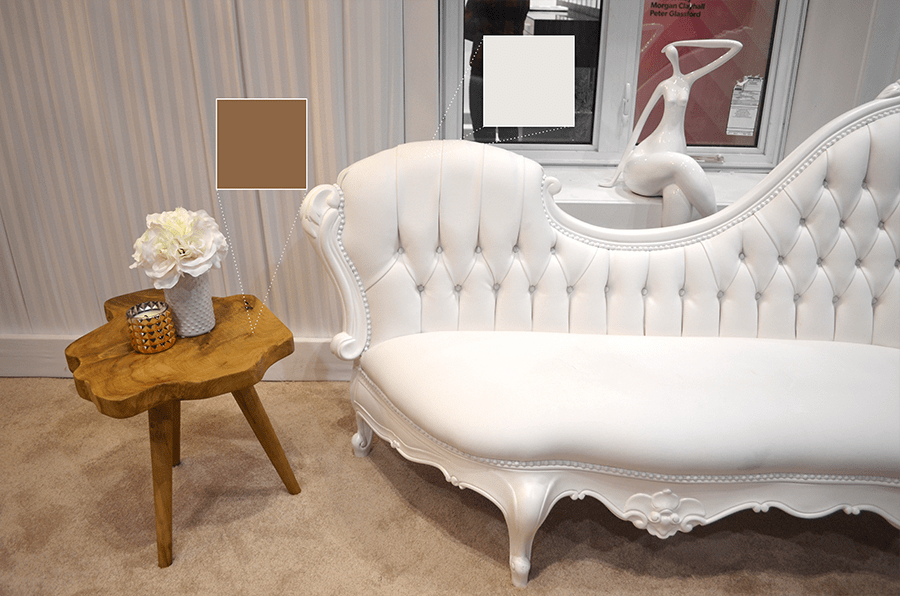 The colors of this sectional couch from Southport Outdoor Living definitely caught our eye… And it was quite comfortable too!
Jan Kath displayed several plush ornate rugs that were full of vibrant colors. This fiery piece stopped us in our tracks and we couldn't resist scanning a few colors!
From Ryerson School of Interior Design, this minimalistic booth is named 25 by Leticia Hutchings for the Kentwood Design Challenge. This booth is a compilation of a person's life within a 25-year period. The only element that remains consistent is the floor, which conceptually would witness a lot in 25 years. In this installation, Kentwood flooring is used as a timeline on which different periods of the occupants' lives are depicted. Stepping into the scene as you would someone else's home, it appears tranquil. However, as in any home, there is a story that is not advertised to the guest. The story and look of this booth was definitely a show stopper for us.
Urban Barn created a look with different shades of blue in their booth design – from the décor on the shelves to the different throw pillows on the sectional couch; this booth was definitely worth the photos and color scans!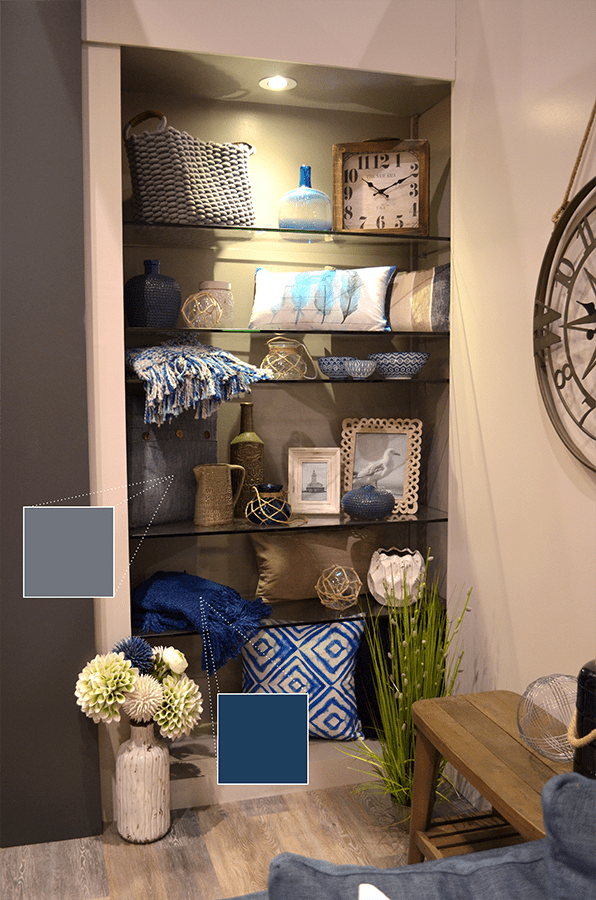 Attending the Interior Design Show is always a great experience in meeting inspirational designers and suppliers, as well as seeing the latest and greatest design trends! Will you be attending next year? You should, because you just might catch us there!
Fall in love with a color? Not to worry! Click here to download the color data for all of the items we scanned at the show!
*Originally posted by Elaina Principato on Nix Color Sensor Blog.