Fall Decor Trends for Your Home
It's always sad to say goodbye to summer, but autumn comes with lots of things to look forward to – especially the decor! It's the perfect time to make some decor updates both inside and outside your home to fully embrace the season.
This fall there are some stunning trends being used by designers across North America to fit with wider design and fashion trends this year. Whether you've got a go-to fall style that you're ready to break out, or you're looking for some new seasonal decor, we've got some decor tips to get your started.
Set the Tone Outside
Welcome fall into your home by updating the decor on your front door or porch! A classic pumpkin-lined porch will always be in style, and a bristle doormat or an oak-leaf wreath is perfect for a condo or apartment building. A large vase with maple leaves and twigs can also be inviting and is easy to change year-round for seasonal decorations!
If you have room for furniture on your patio or front deck, wicker furniture is always in fashion for autumn. Using cushions in fall colours, like burnt orange, yellow, and gold can also help fit in with the seasonal tones.
Accent Colours
These traditional autumnal colours that we all know and love will never go out of style for this season. However, a very popular trend for fall 2019 is incorporating rich purples and deep pinks as accent colours in the decor. Whether in your furniture, centre pieces, table settings, or outdoor furniture, using a pop of "millennial purple" acts as a great statement among bronze and deep orange colours. As long as you use the accent in a couple places, like napkins and a flower in the centrepiece, it can tie a more traditional decor together in a modern way.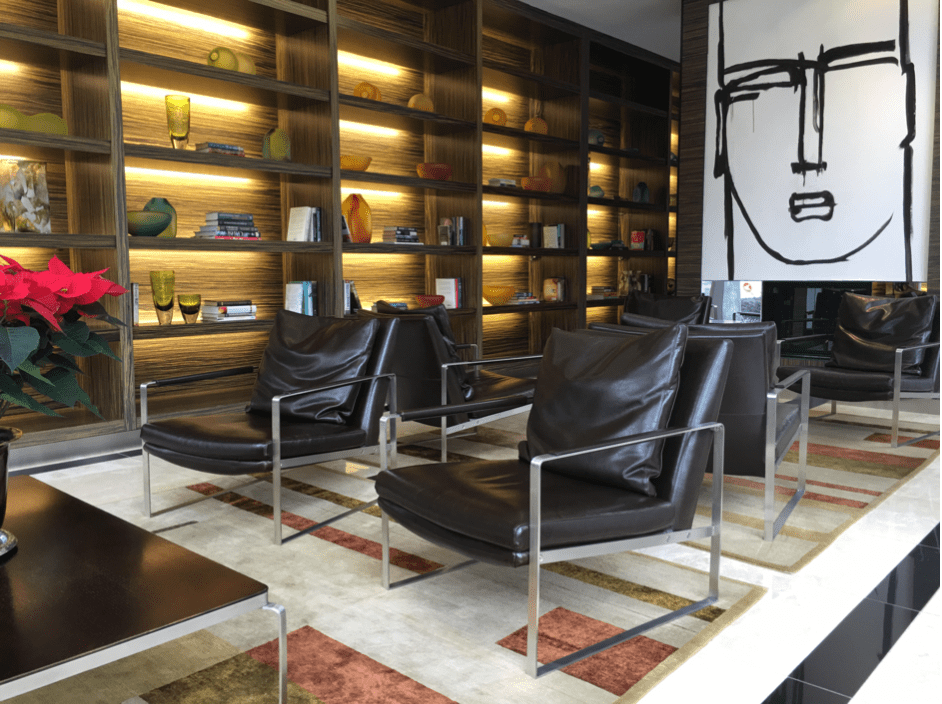 Knits and Plaid
Is there anything better than big cozy knits for fall? Knit blankets and pillows are great additions to any room to embrace the season. Even the trendiest spaces, with industrial or modern furniture, are easily softened up by a few knit blankets in the fall.
Plaid is a pattern that isn't everyone's cup of tea, but this fall, plaid blankets and pillows are a popular way that some people are mixing modern and traditional decor this fall. This reflects the broader fashion trend involving plaid for the season.
Both knits and plaid are great materials and patterns to use for your fall decor to make your modern space feel comfortable and inviting.
Light It Up
Lighting is one of the best ways to make your modern space feel cozier. Hanging fairy lights has been popular for a few years now, both inside and outside. A twist on this trend this year is using small lights as part of your decorative pieces. DIY mason jars filled with lights, burlap, and rope can make beautiful centre pieces for indoors and outdoors.
Wrapping small LED lights around your wreaths and dried flowers is also a great way to modernize a very traditional decor trend.
Get Ready for Fall with sohoConcept
At sohoConcept, we work with professional and amateur designers to help craft the perfect looks for businesses and homes alike. We are always available to help find the perfect piece of modern furniture for a season to help tie a look together!
If you're looking to make some decor or modern furniture updates this season, get in touch with us! Let's find that perfect purple chair or find a comfortable sofa to throw a plaid blanket on.

Contact us today.