Design Your Ideal Modern Home Office
Set Up Your Modern Home Office With These SohoConcept Pieces
The rapid spread of Covid-19 has encouraged many employers to mandate their employees to work from home. Working remotely has its challenges such as being confined to your bed or battling over a designated couch. This can be the perfect opportunity to model the ideal home office you have always dreamt of! Who knew a few pieces of furniture could help promote creativity, productivity and concentration? SohoConcept is here to help you create a space that contributes to your work-from-home success with modern furniture!
Set up your dream home office with these modern and chic pieces!
The Perfect Modern Desk
Choosing the perfect desk for your work needs will compliment your work space. Having a spacious and modern desk will allow you to be inspired and organized in your home office. SohoConcept has a variety of different modern desks for you!
The York Desk is the perfect minimalist modern desk for any space! This contemporary piece will match all home decor and furniture sets to complete any look. The desktop is MDF covered with wenge oak veneer or white lacquer, and has two chrome plated, stainless steel sleigh legs. This piece has potential for ample storage, with two drawers to accommodate small stationary items. It comes in a variety of colours too, such as brown, black, white and grey to fit any interior design!
Comfortable and Modern Chair
You do not have to choose between comfort and elegance with SohoConcepts large collection of modern office chairs. Choosing the right chair is important to help you get through your work days comfortably, and fashionably. These modern office chairs are built with an ergonomic design; sturdy, flexible and accommodating. Dining chairs, bar stools, and foldable chairs will not provide the appropriate support that your back needs.
SohoConcept chairs have excellent lumbar support and promote ideal posture to prevent any unnecessary stress or discomfort. They come in many different classic mid-century modern designs with added features specifically made for home offices such as adjustable seating and wheels on the legs. Just like the rest of your home office furniture, investing in a supportive chair is an investment in yourself.
This sohoConcept Harput Office chair is one of our favourites of the collection! This modern style makes any home office look elegant and chic. Forget those bulky black leather chairs back at the office when you can be at home working in style!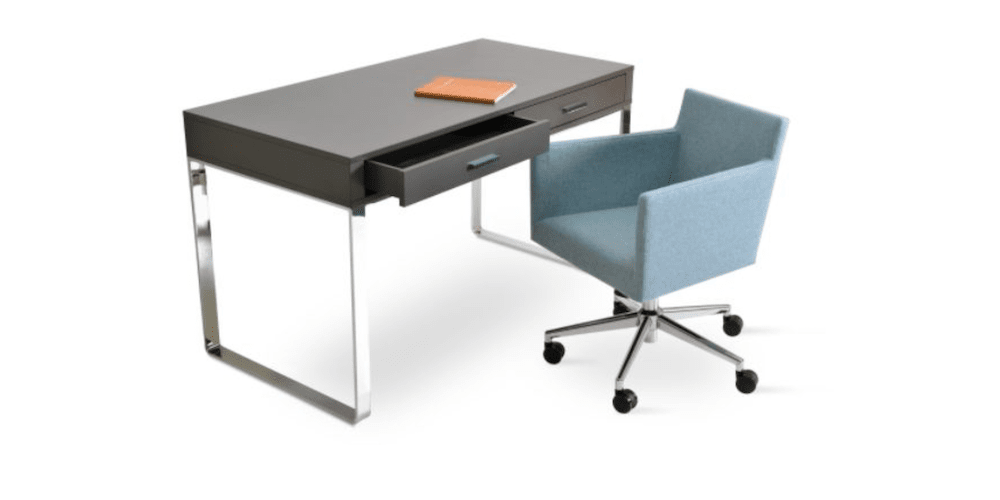 Bookshelves & Storage For every home Office
Every home office needs a bookshelf to store books and documents or display collectibles and decor. Minimal and modern bookshelf designs will add an eye-catching element to your home office without overcrowding.
SohoConcept has designed many different types of bookshelves for any residential or commercial room. This Malta bookcase enhances any room, while enabling you to express your own style. Stack them high against the wall, or arrange them low on the floor, the possibilities are endless.
Modern Office Furniture by sohoConcept
SohoConcept has provided modern office furniture all around the world. We can help you find the right furniture for any home office to help you relax and be more productive. Whether you need modern chairs, a functional desk or a structured book shelf, we can help.
Contact sohoConcept today for modern office furniture and bring your office into the 21st century!