5 Modern AirBNBs that will Give You the Travel Bug
Summer is here and that means it's vacation time! One of the most important aspects of vacation has always been choosing accommodations. Finding somewhere relaxing and clean with modern furniture and close to amenities can sometimes make or break a vacation. Choosing a hotel has always been at the top of a priority list when it came to vacations.
Recently, house sharing on websites like AirBNB has exploded due to its convenience. It offers guests something new – a unique experience – while they are travelling. Instead of a hotel, guests can stay in local apartments, houses, and chalets and get a more authentic experience while abroad.
AirBNB is based on reviews, so hosts must uphold a certain standard for their guests. Some spaces, however, stand above as being beautiful, modern, and unique. Here are some of the most unique and modern AirBNBs we found online that are going to make you want to book a vacation ASAP!
AirBNBs with Modern Furniture and Design
Mountainside Property with a View – Baie-Saint-Paul, Quebec

This huge space located on the side of a mountain Quebec has a beautiful indoor space and an outdoor space suited for BBQs, relaxing, and swimming. The inside is an interesting mix of smooth white and light wood panelling.
The couches and chairs are sleek, with straight lines and white leather. The circular chairs and high backed dining chairs create a modern aesthetic, while the wood panelling fits in perfectly with the French mountainside view. This place is perfect for a getaway with friends in a luxurious space!
Modern Beach House with a Pool – Tiny, Ontario


This space is a perfect mix of cozy and modern. Located right by the beach so you can get your tan on, this large space has large, comfortable chairs and couches mixed with modern occasional chairs, sleek sofas, and a modern dining table. We love the sectional sofa and occasional chairs with the gorgeous view. The wood panelling gives it the cottage-feel that everyone looks for when they're staying by the lake!
Tree House in the Woods – Durham, Ontario

Calling all adventure travelers – this is the place for you. This cozy tree house is hidden in the woods and contains some of the most unique modern decor we've seen. Hammock seats, wood floors, walls, and furniture, A-frame ceilings, and an open concept layout make this place perfect for a quick, quiet weekend getaway.
The outdoor dining set is wooden and bulky to fit in with the forest aesthetic, but it's surrounded by hanging wicker chairs, hammocks, and beautiful modern sofas. The bright white furniture inside contrasts beautifully with the dark wood outside, giving guests whatever experience they're looking for.
Mid-Century Gem – Palm Springs, California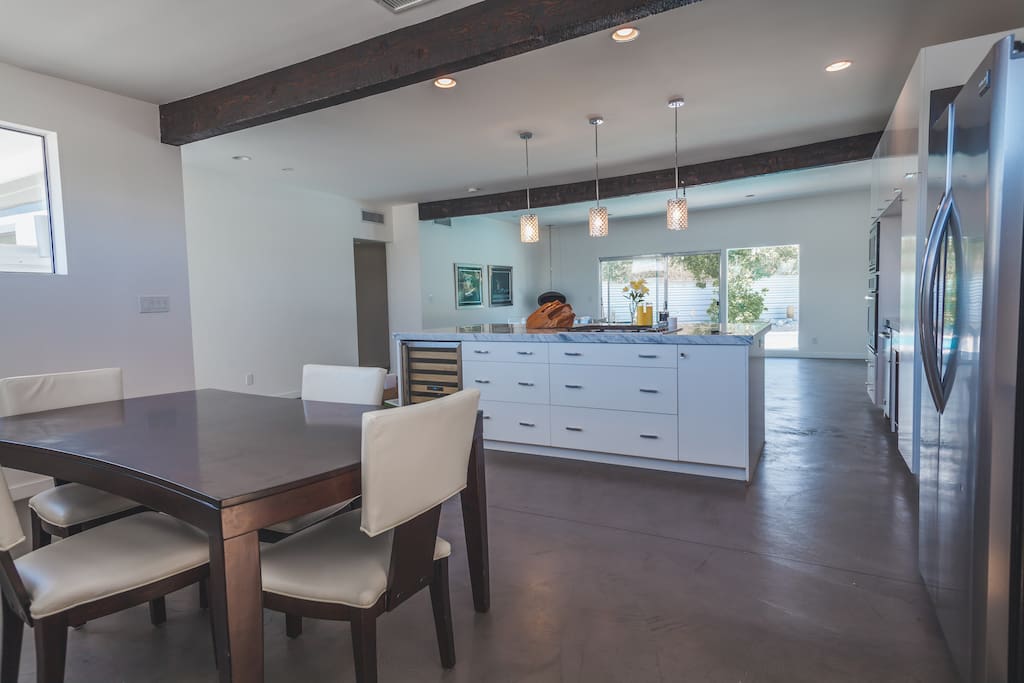 Looking for more of a city adventure? This place in Palm Springs, California keeps you out of the woods and right into the desert. Everything in this space is modern – the bedrooms, the dining room, the kitchen, the pool, the lounge chairs.
The transparent bar stools in the white marble kitchen are our favourite aspect here. They fit in the space smoothly without overpowering the kitchen with white. The outdoor furniture is also fantastic – the modern chairs are unique and are perfect for relaxing by the pool.
Forest-and-Heaven Themed Apartment – Melbourne, Australia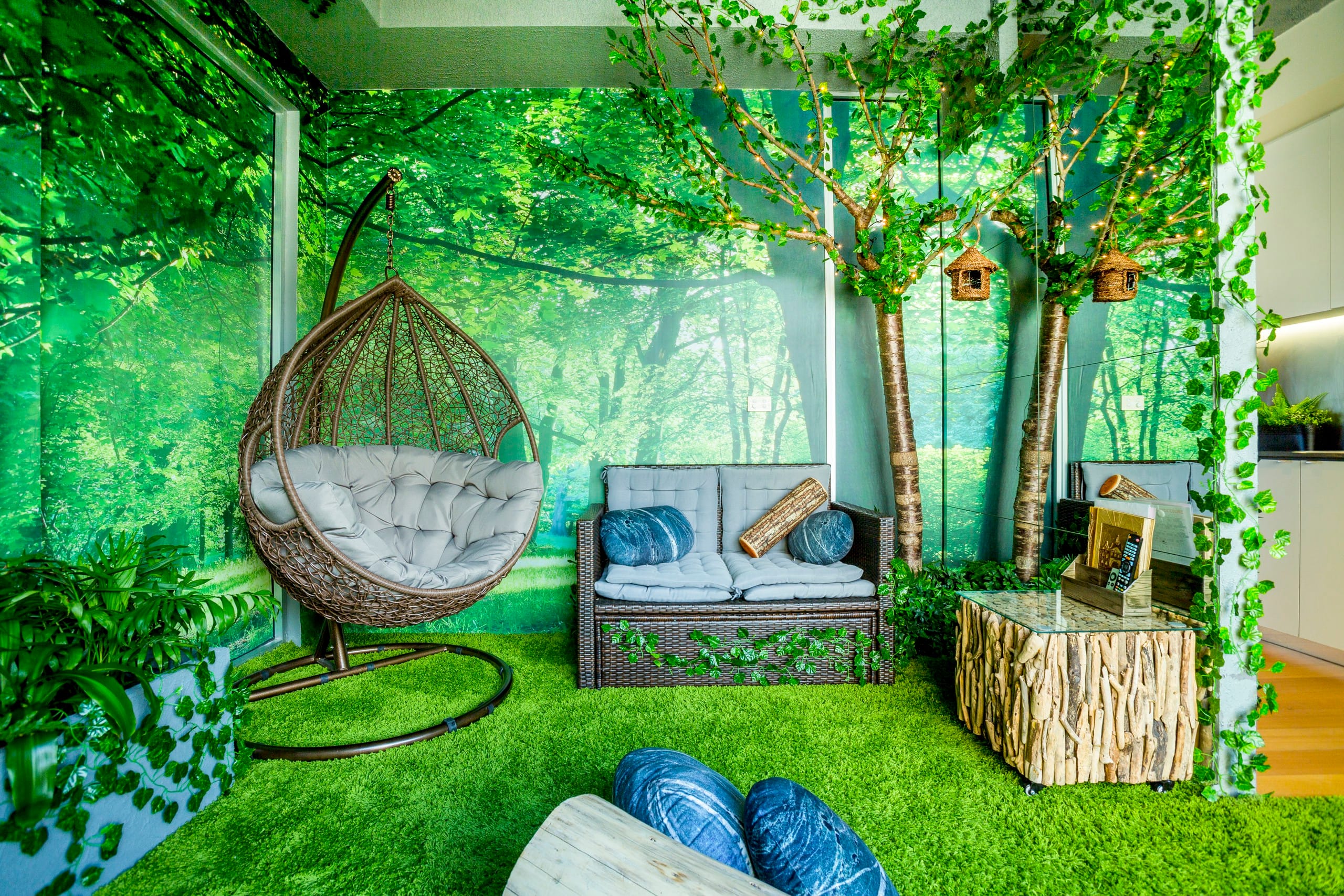 Traveling out of North America? This heavenly apartment is for you. Its main feature is the living room and dining room decorated to look and feel like a forest in the heart of the city. With some rustic accents, like wooden stools and benches, you can have a forest getaway within the apartment without even going outside. Even with these rustic items, there are still modern touches, such as the hanging chair.
Decorating An AirBNB?
If you're renting out your space this summer, it's the perfect time to upgrade your furniture to make an impression on your guests! Adding a few modern touches to your space will make their stay that much more enjoyable and earn you a five star rating!
Contact sohoConcept today to get started upgrading your modern furniture today. We can provide suggestions for pieces, materials, and colours that will fit into your space smoothly and our superior customer service ensures that you get your pieces on time.
View our catalogue or contact us today!
Images and links provided by AirBNB.